TRYING ON SOLARGLIDE 5: WHY IT IS AN IDEAL EVERYDAY ALL-ROUNDER
Looking for a shoe to accompany you in your everyday running needs? Fabienne Lipus, adidas Runners Captain Berlin gets the lowdown on this versatile running shoe from biomechanical expert Dr Srdan Popovic.
Finding a shoe that can carry you through all kinds of runs – that supports you through the highs and the lows – is crucial for people who are passionate about running; a shoe like Solarglide 5, an everyday all-rounder with superb energy return tailored for the female form.
But why is the new Solarglide 5 a great everyday all-rounder? The combination of the BOOST midsole, adidas LEP 2.0 and the control platform wrapped in a knit upper made in part with Parley Ocean plastic gives us a great all-rounder with superb energy return.
To explain this better also through the runner's lense, we invited we invited Fabienne Lipus - the Captain of adidas Runners Berlin and someone who relies a lot on her running shoes for her everyday runs and activities – to experience running with Solarglide 5 during a personalized try-on on a treadmill.
Fabienne discussed with the biomechanical expert Dr Srdan Popovic of BeMoveD at Charité university hospital, Berlin, to learn more about Solarglide 5 technologies and characteristics – and how she can get the most out of her daily runs.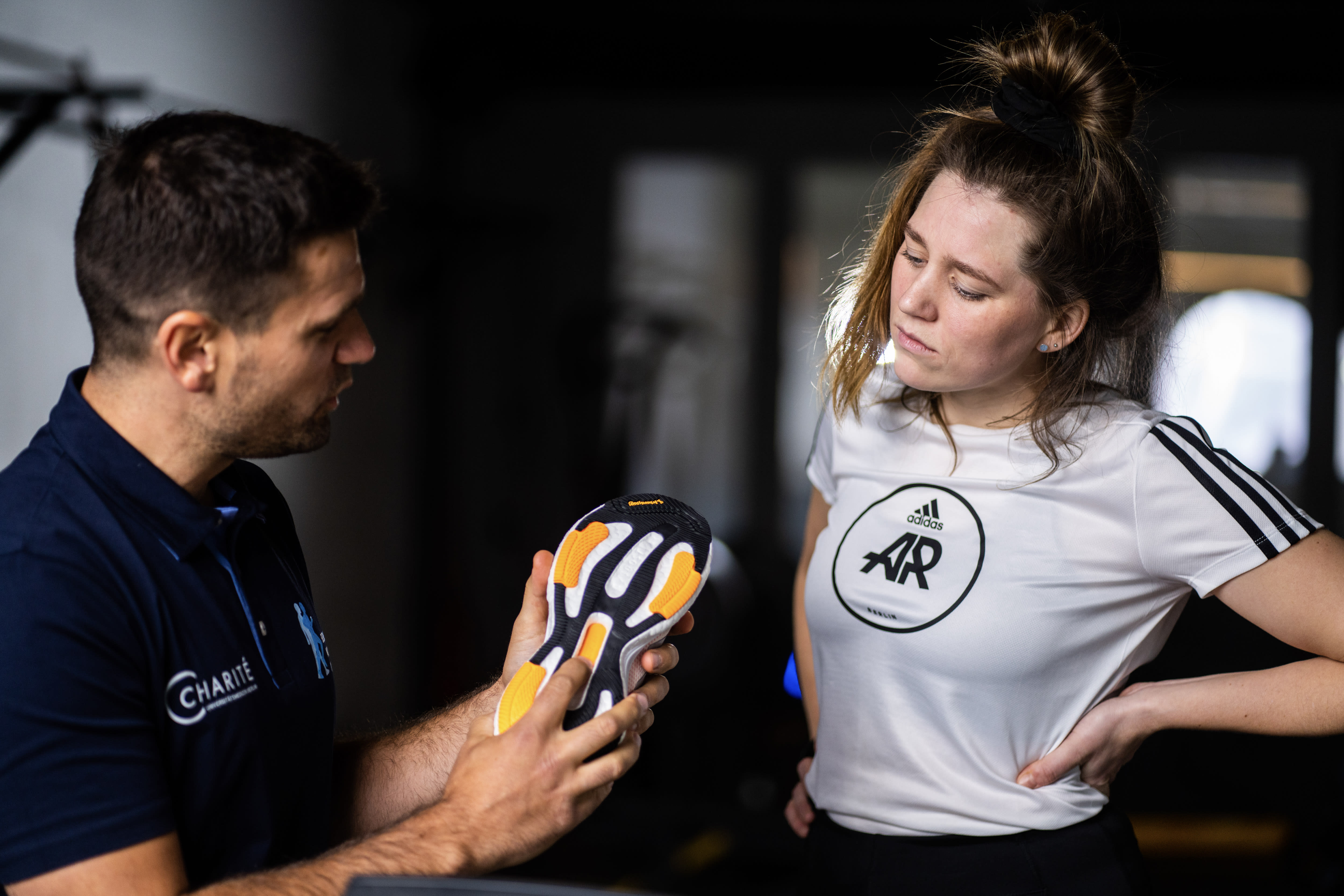 It's a great all-round shoe
When life is busy, it's important to have those trainers that you can keep by the door and just grab and run every day. "I'm always on the move," Fabienne says, "and this is reflected in my running routines." But, like so many people with demanding lives, her needs vary depending on when, where – and with who – she's running. "Running is not always the same; it's different every time."
When designing the Solarglide 5, adidas wanted to ensure that they'd created a versatile shoe that would work for different types of running experiences. As Dr Popovic explains: "Solarglide 5 is a high-mileage cushioned trainer that covers a wide range of distances and paces – from faster 10k runs to long runs of 30k or more. It' s Boost material is designed to provide cushioning and superb energy return."

This is something that's very important to Fabienne. "Reliability is the foundation for trust, right? And trust is the basic foundation for any sort of relationship."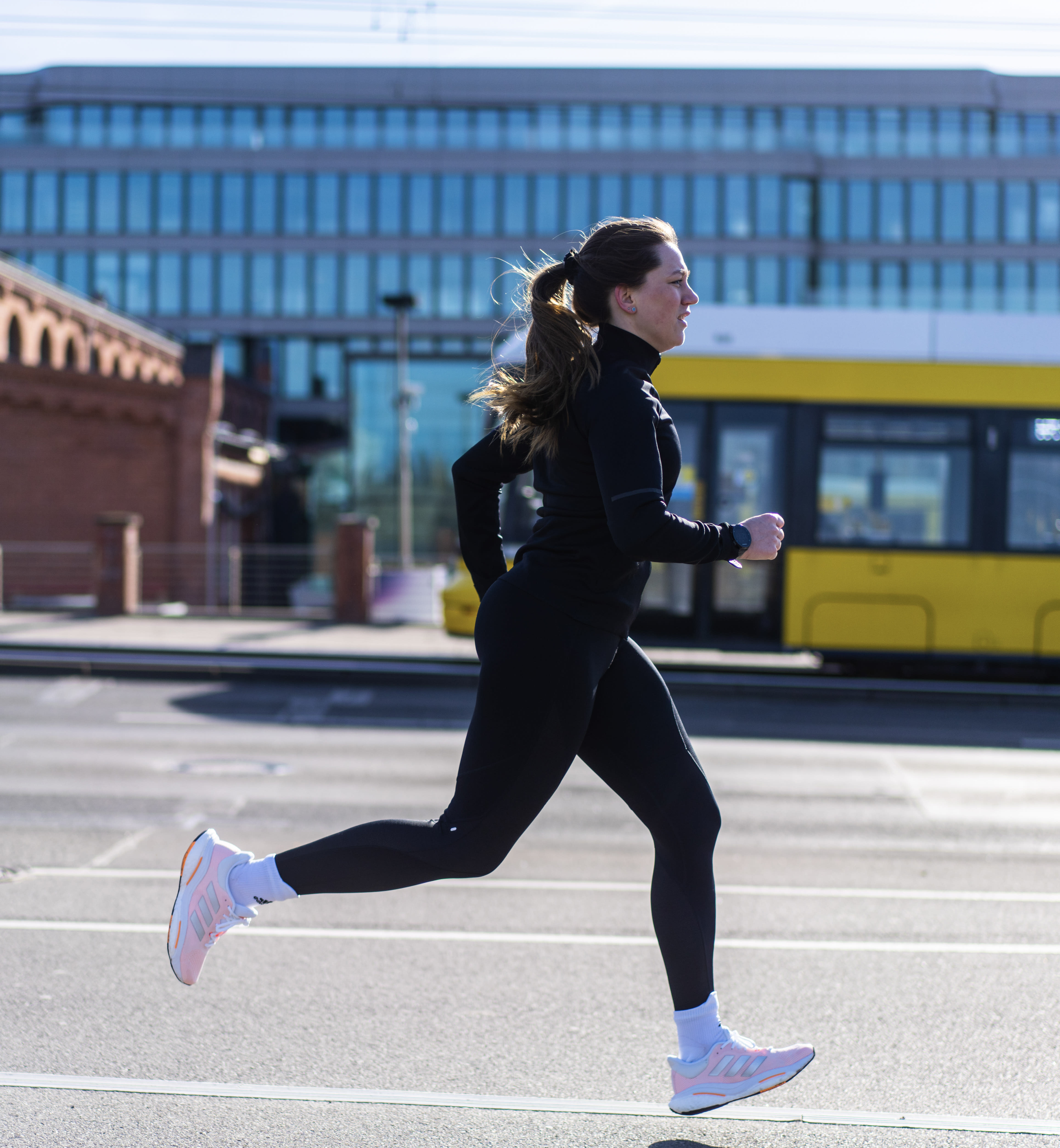 EVA Platform, BOOST midsole, Primeknit + upper: Guided Energy meets perfect fit.
Solarglide 5 was designed to be a reliable partner of any runner, based on their individual needs.
The EVA platform was designed for a smooth transition and in combination with the upper provides this guided feeling and enough space but at the same time holds the foot where it should be. This is what Fabienne describes as feeling grounded and being kept in good hands. The combination of the BOOST midsole, adidas LEP 2.0 and the control platform wrapped in a knit upper made in part with Parley Ocean plastic create a great all-rounder with superb energy return.
Solarglide 5 harnesses the power of adidas' Boost technology, where thousands of capsules are fused together, ready to return energy in each step. This works with the LEP 2.0 system to stiffen the forefoot, leading to a more dynamic and crisp push-off.

"When you land on your heel and transition to the forefoot, the LEP stiffens the foot up little a bit," Dr Popovic says. "It acts like a kind of lever, giving you the energy that you've put in beforehand in the push-off."

This composition of technologies really reasonates for Fabienne. "Running to me is about keeping the balance in life," she says, and having the right shoe allows her to be in the moment and enjoy "all those feelings that running creates".
Fabienne agrees that the Solarglide 5 is a great shoe for her versatile training but the shoe can only be as good as the work you put into yourself and your running. "A shoe should just be there so you can fully focus on yourself and your run – because, in the end, it's you who's making the effort."
Watch the full video here:
General disclaimer – IMPORTANT NOTE: ALWAYS consult your doctor before undertaking any new activity. Do not complete any activity which is outside of your ability or which is against your doctor's advice. Use common sense and make sure you are in a safe location and on a safe surface for any activity.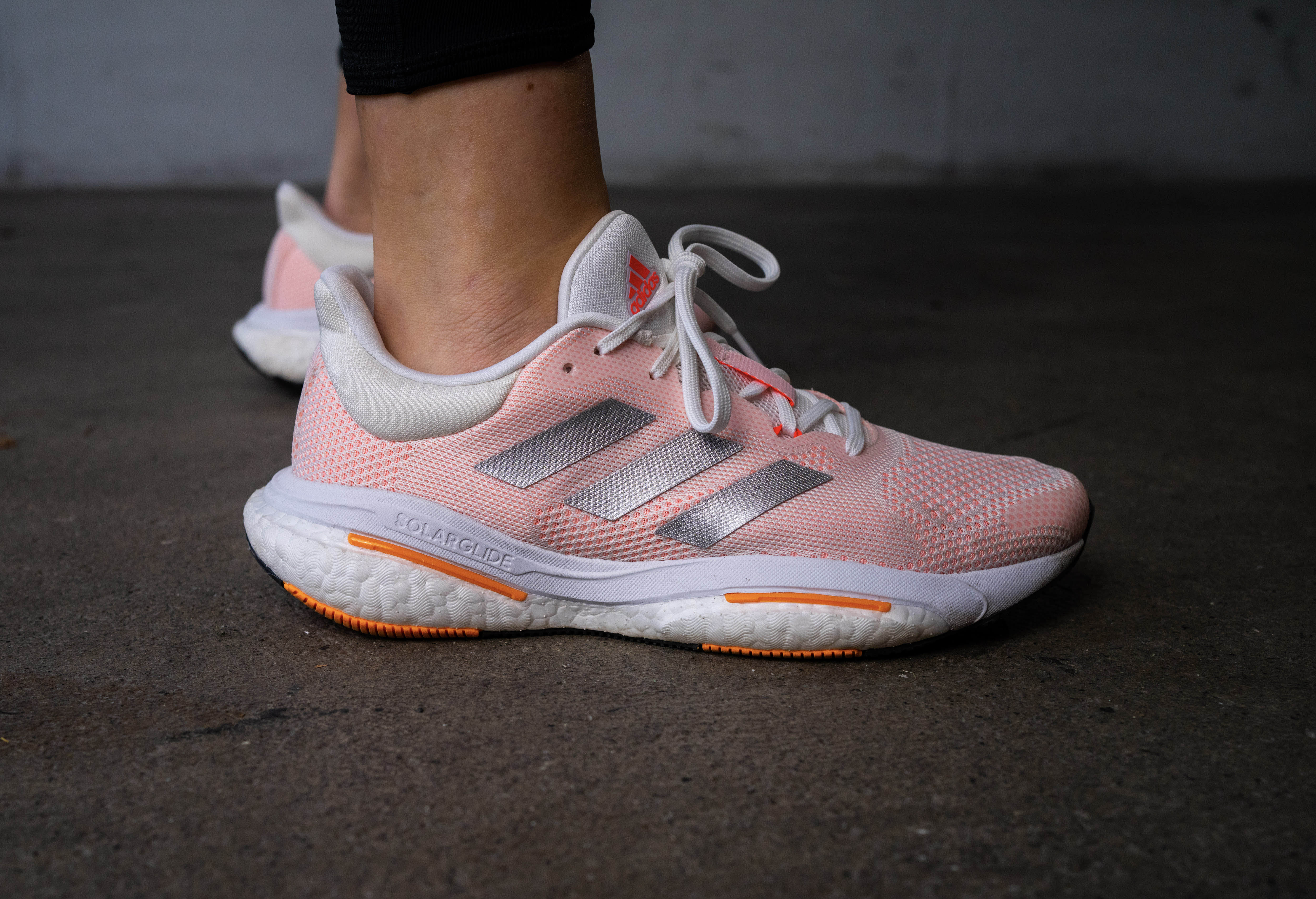 Stay Updated
Be the first to know all about stories, launches and events.