Major Champion and 5 time LPGA Tour winner Danielle Kang talks golf fashion and creating your own way to play golf
Playing your own way, breaking down dress code conformity and getting friends to play golf - Social Media creator and beginner golfer Mia Baker joins US Open Champion Danielle on Zoom to discuss what needs to be done to grow the game
Mia Baker: You've been playing golf for 14 years, has it changed over that time?
DK: It's changed a little bit, definitely for the better. I think more women are more aware of the fashion in golf. A lot of girls that play, even outside of the Tour, want to look cute on the golf course now and I love that! Everyone should go out on the golf course and dress how they want! That helps grow the game. I like that even if the clothing isn't really 'performance' clothing. I like that people want to express themselves as girls or women now and it's really helping change the image of golf.
Across the LPGA Tour there are a lot of cultures and countries represented and it's getting very diverse and I like that a lot. Style across those cultures is so cool as well!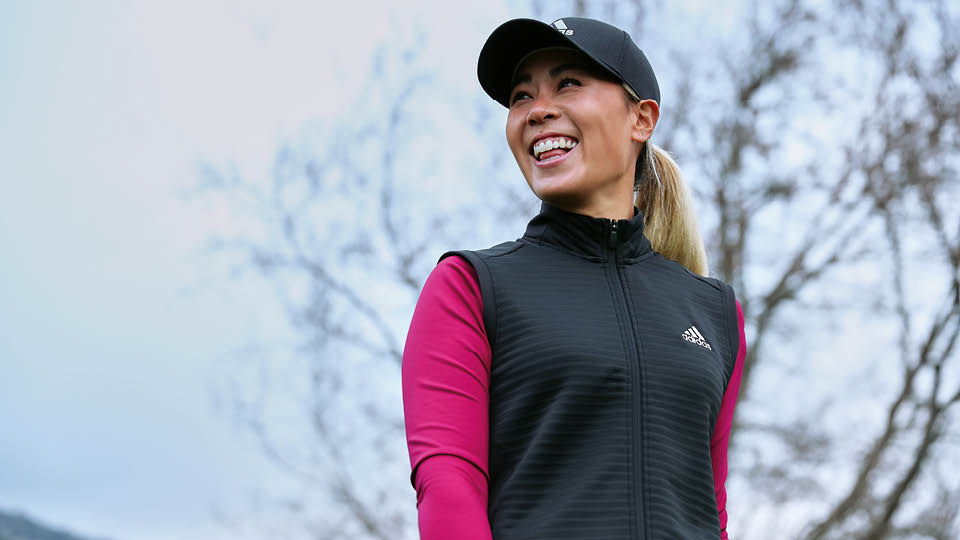 Mia Baker: What do you think that you or I could do to get more people playing?
DK: I think getting girls to play you have to have good outfits! Girls like looking cute and the clothes have to be versatile so they can be worn on and off the golf course. Whether you're on the course or in a grocery store you don't want to feel out of place. Fashion itself is a huge thing for girls and if that makes them feel more comfortable it will help get girls involved. Showcasing that fashion and showing that they fit in both on and off the golf course. If you have friends that don't play golf, get them some cute adidas clothes to go and play golf in! They can wear an adidas hoody to play golf and then go meet their friends! Feeling cool and cute is one of the barriers that's key to break down.
Second to that is educating that golf really is not boring! Having friends that show each other that will help to grow the game. The range and mini golf are really fun as well! Golf doesn't have to mean 18 holes on a golf course.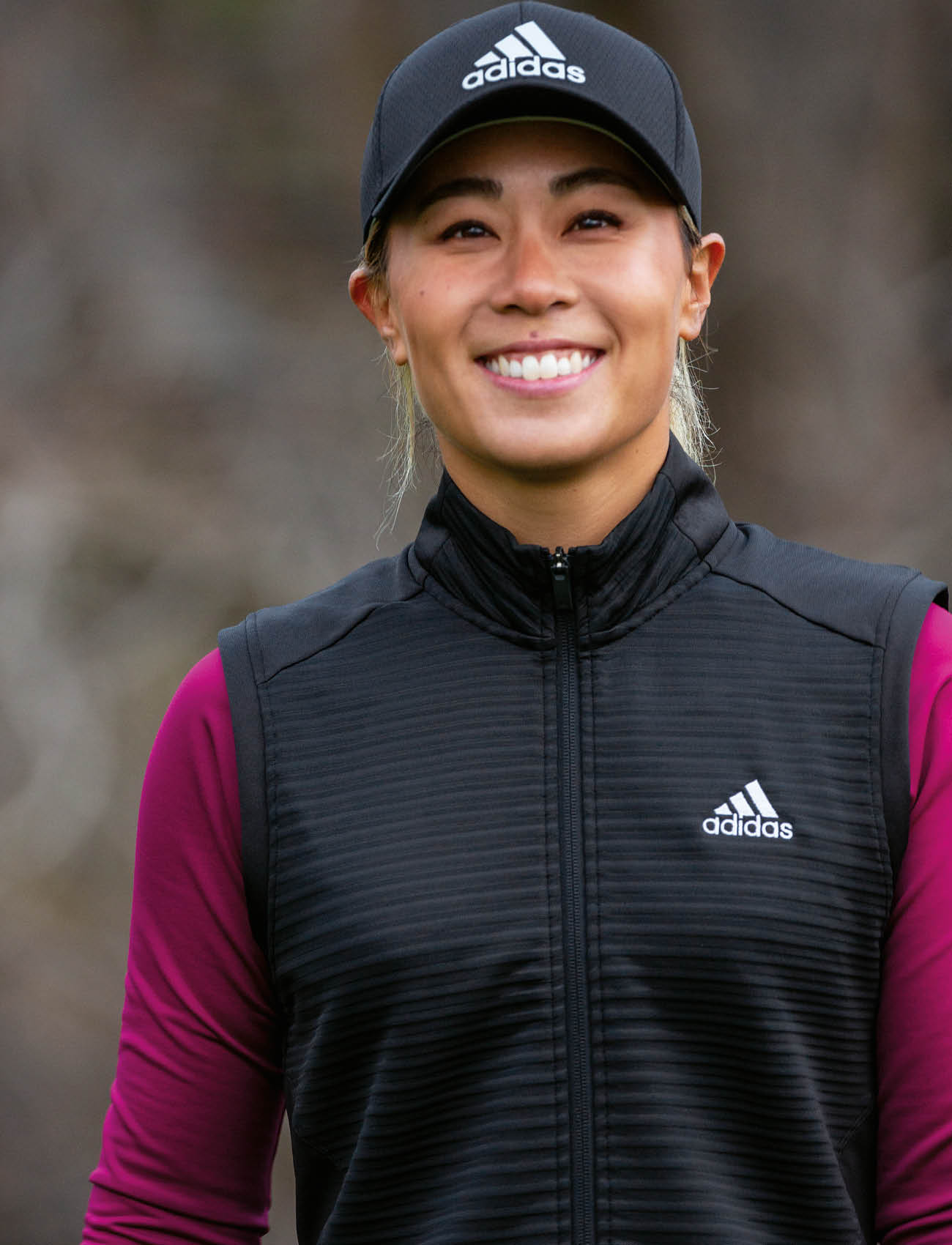 Mia Baker: What would you say is the best way to take the intimidation away for beginners, especially those scared of going from the range to the course?
DK: Not expecting the same results that you see from other people will make the golf course fun. To feel like you 'have' to do something on a golf course sometimes takes the intensity to another level and you feel like you don't want to do it. If you're all of a sudden in the rough and you know the expectation is to hit it on the green in two, and I have to two putt to make par it just adds a new level of intensity. Pars and birdies are something we all supposedly 'have' to do. I would think it'll be more fun for beginners to rearrange the par system for themselves. If you can make a 7 on a certain hole and you feel like you did a good job that's cool. Go out and make up a new golf course for yourself!
I want beginners, in fact everyone, to know that there is no right way, or right number, to getting your ball in the hole. The goal is to get the ball in the hole. No matter what your swing looks like or what club you hit, if you're comfortable only using one club then just use one club! I did that when I was younger, and it made it more fun for me.
If you want to get comfortable, hit 3 shots with every club in your bag and keep going over that cycle until you feel more comfortable. Then when you go out on the course certain clubs won't feel alien. There is no right way of playing golf and realising that it'll make golf more fun. Play how you like! Just have fun with it!
Mia Baker: I like the idea of having a 'slow lane' for golf because I get nervous with people behind me thinking I'm so slow. That makes it less fun. What would you suggest for beginners to help with this?
DK: Sometimes playing 18 holes is a bit too long for amateurs. I think 9 holes is more suitable because people don't have much time anymore. 18 holes takes up your entire day. Don't hesitate to play only as much as you want to play. I tell my friends when we play, if they can't hit the green in two, to tee the ball up in the fairway. That's their new golf course and that's their new tee box. If people are putting pressure on your from behind, then just skip forward a hole. You don't have to play 18 holes. Don't feel like you have to shoot a specific score or play a certain amount of golf, just play how you want to play.
"Just play how you want to play"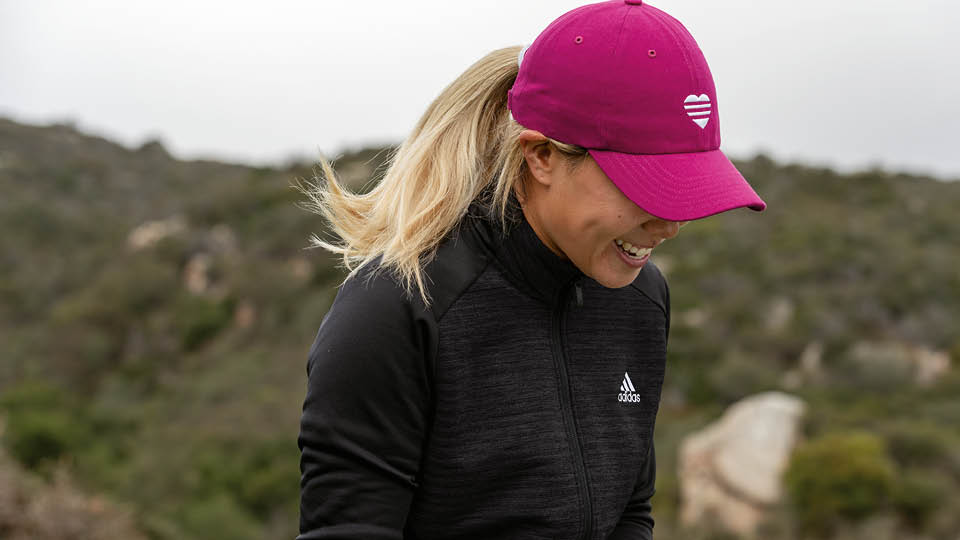 Mia Baker: Do you think there needs to be an education for experienced golfer on how to introduce newcomers to the game?
DK: Understanding that the standard type of golf is not fun for everyone should be an educational thing for all golfers. You can't force fun on people and if 18 holes isn't fun for people then don't force it on them. Understand why it isn't fun for them and put things in place to make it fun. We don't all have to play the same way even when we play together. We have to adjust, if you only like putting then do that, or if you like chipping from a certain spot, sooner or later you'll start challenging yourself from those areas and golf becomes more fun for you and people around you.
Mia Baker: We've heard you talk a lot about your style and fashion in the game, you've featured in campaigns for adidas Women outside of golf. We wanted to get your take on where you see the direction, specifically women's fashion in golf, going in the future.
DK: I love the way that adidas is being innovative with women's sports lines. I love the fact that we keep the traditions and we flirt with the lines. I wear the joggers, I love them, and I get questions on the shorts and sweaters that I wear and ultimately, I'm comfortable and can perform better wearing those items that push the boundaries. They still fit the golf mould, I'm not wearing skimpy racer backs, or something non-traditional. The pieces are just modernised. I think adidas Golf has done an amazing job with that and if we continue in that progressive direction then it will help change the image of the sport for the good.
Stay Updated
Be the first to know all about stories, launches and events.