Sergio Garcia reveals all about his amazing twenty years of history with adidas golf
Shots from trees, Ryder cup heroics and life as a family man – Piers and Andy from Me And My Golf get under the skin of the European golfing legend and 2017 Masters Champion
Me&MyGolf: Ok, let's talk about your relationship with adidas as its been 20 years!
SG: It's great, I am so thankful to all my sponsors but obviously to adidas for all their support. 20 years, it's something that is very easy to say, but you don't see a lot of athletes sticking with a brand for so many years. To me, it shows what adidas stands for, obviously, they like what they see, when they see me wearing their brand and I am very thankful to have such a great relationship and it's great to see how far we've both come from 1999 when the shirts were cotton, thick and long and now you see all the technology they come out with and how comfortable they are with breathability, stretch, looks and everything. So it's great to see how we have both grown together, it's kind of like as a family.
Me&MyGolf: You must be incredibly proud of your career, 20 years, that's fantastic, but you've got a few other reasons to be proud now, a family. How has this changed you on and off the golf course?
SG: It's the biggest change without a doubt in my life, for the better, don't get me wrong. I remember when I won The Masters, everyone was like, oh, your life has changed and I was like yeah, a little bit but it's not like I won The Masters on my third year on tour. I had been there for 17 or 18 years, so I knew what was going on a little bit. But when that little girl was born my life changed instantly. It's amazing, I know every parent can relate to it but they say until you become a parent, you can't relate to it. It's funny to realise, how can you love someone instantly that you haven't met in your life. It's something that you can't describe. It has been great, Angela, Azalea and myself, we've had an incredible time with her growing up, she's a wonderful baby, very smart and beautiful and she's so good, so we've had a great time.
Me&MyGolf: We have to talk about Ryder Cup - what was it like to surpass Seve's record as the top points scorer?
SG: The funny thing is, I didn't think about surpassing Seve and then obviously Faldo and Langer, until it really happened on that Sunday afternoon in Paris. The way I've always looked at Ryder Cups, is that I would rather go 0 & 5 and win the Ryder Cup, than 5 & 0 and lose the Ryder Cup, because at the end of the day, the Ryder Cup is not about Sergio Garcia, it's not about Rory McIlroy, Lee Westwood, Ian Poulter, Justin Rose or whoever you want to choose, it's about Europe itself. That is one of the great things that we have and that's why we are so successful at it because we are more worried about what we do as a group, as a team, than what we are doing as individuals. When I was playing, I knew that my points, my total points were up there, then as the week went on and we won a couple of matches, with Alex Norén and then Rory. I wasn't thinking, oh I'm at 24.5 now, if I beat Ricky tomorrow, I'm going to be.. no. We were all focused on getting to at least 14.5 points, winning the singles series on Sunday and making sure that we won the Ryder Cup. Then probably as I got to two up and then there was 4-5 holes to go, it looked like the team was going to win, everything looked good, then I kind of thought.. wow, actually, if I win that match, I can become the highest points scorer ever in the history of the Ryder Cup and then it all got very emotional, not only because of that, but because of winning, then winning the Ryder Cup, my wife being there and my brother caddying for me, my father being there and Rosey, Justin Rose was there, the first one on the 17th hole and he was grabbing my head and going unbelievable! unbelievable! So yeah, it was pretty unique.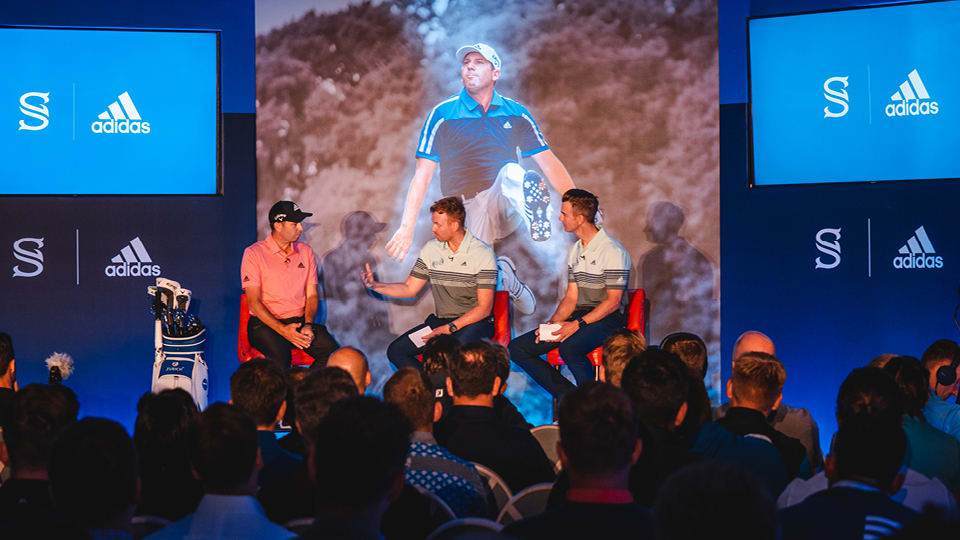 Me&MyGolf: And you have had a lot of critics over the years around the majors, was it hard to block those out? And how does it feel now to put those to bed, in terms of 'I've got my major'…
SG: At the beginning it's a bit harder, because they are always telling you, "best player to never win a major" something like that. As it went on, I started to look at it in a different way, well at least, if they are considering me as the best player to never win a major, at least, "best player" then there's something obviously really good there, then the second part, we are going to try and change it. It's better to be the best player to never win a major, than to be nothing, you know, nothing and no major! So that's the way I tried to look at it the last few years.
they were always telling you, 'best player to never win a major' something like that, as it went on, I started to look at it in a different way
Me&MyGolf: How important were the people around you at that time?
SG: Yeah, very important, my family has always been very important, always been very supportive, not only my family, obviously all my sponsors and you know that's why we have such a great relationship with all of our sponsors and we've been together for so many years. Obviously adidas 20 years this year, so a lot of great people around me, family and friends and sponsors who are always behind us and believe in my ability and the way I am and what I show for the people. On those moments, it is important to have that support.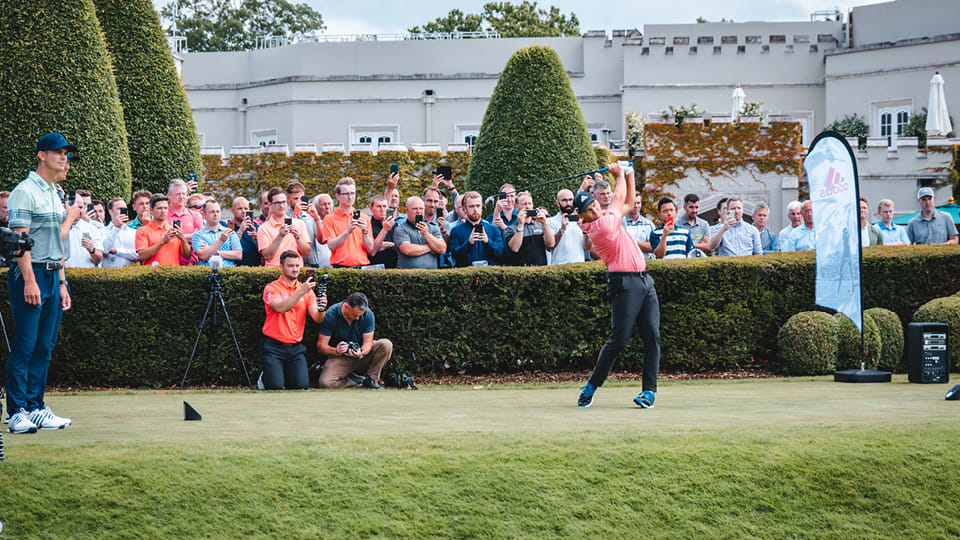 Me&MyGolf: What do you believe is your super power on the golf course?
SG: My superpower, being adidas, it has to be creation. I think that I've always felt that I'm good at seeing shots and creating shots in difficult situations. Like I said earlier, I don't know if it's because Seve and Olazábal were my idols and they could see shots where some people couldn't see them, so sometimes I can see some of the shots. Two weeks ago at Valderrama on the Saturday, for example on the 16th hole, I hit my t-shot a little right, just off the fairway, there was a possibility to hit a low slice, try and run it up to the green, but there was a tree about 100 meters away which could have got in the way. So I started looking and I looked up, saw a gap. Probably as big as 2 meters in between the trees, I had 149 yards, a little into the wind, good lie, I thought, 9 iron, should get me the right trajectory, I feel like if I hit a wedge, I might have to hit it too hard and may not get there, so it has to be a comfortable drawing 9 iron, I think the trajectory should be pretty good, so I hit it, came out perfectly, through the gap with a little draw, bounced about three yards short of the hole, spun a little left, gave me a 10 footer which I tapped in for birdie.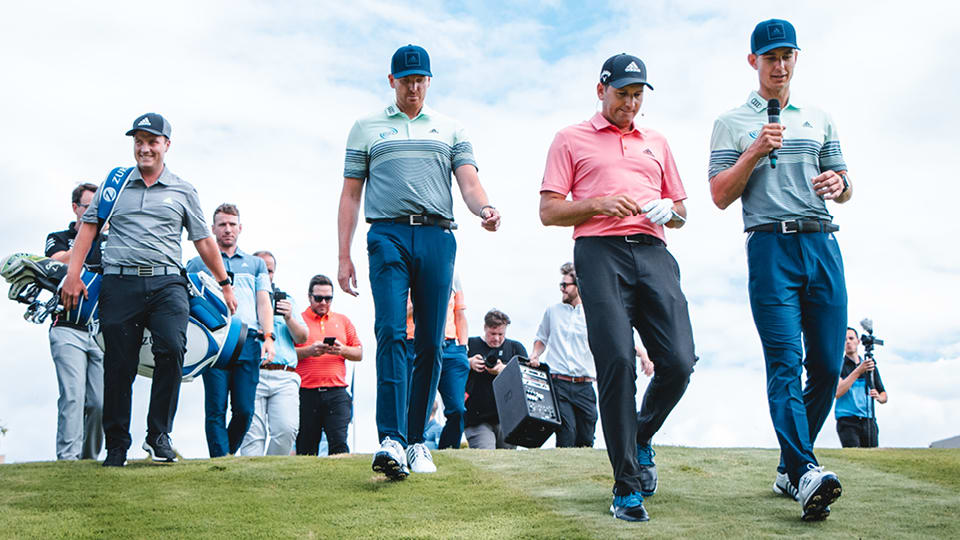 Me&MyGolf: We like you, very much like the adicross range, do you think we could ever play tournament golf in that?
SG: I would think so, I mean, to be totally honest, the shirts and stuff, if they branded it the right way, I could definitely play some of the tournaments on it. They are comfortable shirts and they don't feel too different to a golf shirt, a tiny bit but you could definitely. I have gone and practiced with them and they feel great. When it comes down to the pants and stuff, I think some of them, the dressier pants you could, like the jogging pants and stuff like that, in the future you could definitely do it, for sure.
Stay Updated
Be the first to know all about stories, launches and events.